The wait is over! The free Skype app for iPad is finally here. You can now use your iPad as a full fledged VoIP phone with the newly released official Skye iPad app which features full screen video calling and instant messaging. Using the large iPad screen you now have a beautifully designed interface with large contact photos and dual send/receive picture-in-picture style video feeds. Finally with the iPad app you can now be on a video Skype call and text simultaneously. The app is not universal, so you have a separate download for the iPad version and another app for
iPhone and iPod touch
users.
With a little more money spent on Skype Credits you can even call regular iPhones and landlines straight from your iPad. If you sign up for a personal Skype number, you can even receive phone calls directly on your iPad. You can use the iPad app to call over 3G as well as a Wi-Fi connection. The iPad app keeps a history of your Skype calls with easy flipping navigation.
The iPad app pulls in your existing Skype contacts and you can also add new ones there. Pick any Skype user and start a video call in a few seconds. If you have an iPad 2, you can also flip the video output to either the front or back camera while on a Skype call. On the first gen iPad you can only receive video, while on the iPad 2 you can both send and receive Skype video and text chat simultaneously. You can still Skype out to other Skype users on their iPhone, Mac, or PC as you would expect.
Although the contacts list is beautifully rendered using pictures, there is not enough options to sort, and filter your contacts, which might be an issue if you have a ton of people on your list. Also there is no way to start a group call on the iPad, which with the amount of real estate could be a possibility.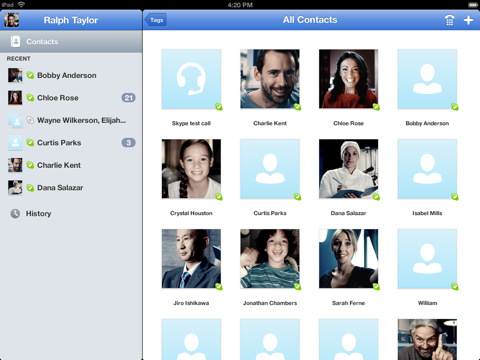 The Skype iPad interface is amazing and beautiful and the talk, text, watch meshing gives you a whole new reason to love your iPad 2 and Skype subscription. While FaceTime does sort of the same thing for iOS users, with Skype you have a bit more power to call regular phone lines. The full screen video is already breathtaking, and when the iPad 3 comes out with improved front and rear cameras, this video calling thing will look even sharper.
Here is a video demo of the Skype app on the iPad
View the developer website
here
Price: Free
Seller: Skype Software S.a.r.l
Version: 1.0.1273
Size: 16.28 MB