Take one of the most popular games all time on iOS, add 75 new levels, some new mechanics, and keep one of the cutest monsters to ever star in a video game and what do you have? Cut the Rope: Experiments, of course. Cut the Rope: Experiments by ZeptoLab UK Limited is the sequel to the extremely popular Cut the Rope game and is available for iPhone, and an
HD version ($1.99)
is also available for iPad.
If for some reason you missed the
original Cut the Rope
, the premise of the game is simple. There is a little monster, Om Nom, who absolutely loves eating candy. Coincidentally, you have a piece of candy, generally attached to one or more ropes. Your goal is to guide the candy to Om Nom by cutting the ropes that the candy is attached to, and having the candy fall across the three stars on the level to earn a perfect score for each challenge. Of course you're not just cutting ropes, you're also popping gravity defying bubbles, blowing the candy across the map and sliding sliders to help feed Om Nom. When you successfully get the candy to Om Nom, he gobbles it up with a cute sense of satisfaction — when you miss, he's quite sad and lets you know by pouting. It was such a great game that I was nervous a sequel might not do the original justice.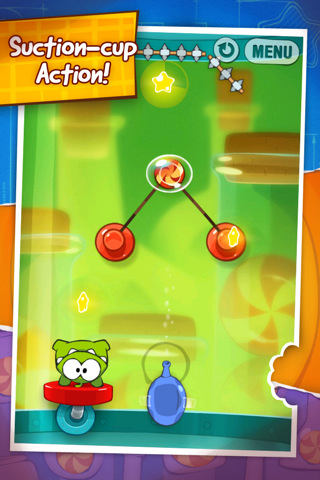 I could not have been more wrong in my fears. Not only does Cut the Rope: Experiments deliver identically addicting gameplay as the first, it goes beyond by adding new challenges and a deeper back-story, all while maintaining the same feel and fun as the first. The first thing you'll notice in Experiments is that on some levels, stars now move. Now the timing of your actions will not only impact whether or not your candy will reach Om Nom, but whether you'll earn any stars in the process. Another interesting addition to Experiments are shoot-able ropes which will latch on to the candy the moment at which you shoot. The length of the rope you shoot will depend on how far away the candy is at the moment the rope is released. It's an incredibly smart addition to the game that adds a really interesting wrinkle to your strategy. Also added to Experiments are trampolines that bounce the candy around the level and make you think about the best way to use them. Finally, ropes connected to movable suction cups create new levels that are never the same twice. These new gameplay tweaks keep the feel of the original Cut the Rope, while adding new ways to frustrate even the most seasoned of rope cutters.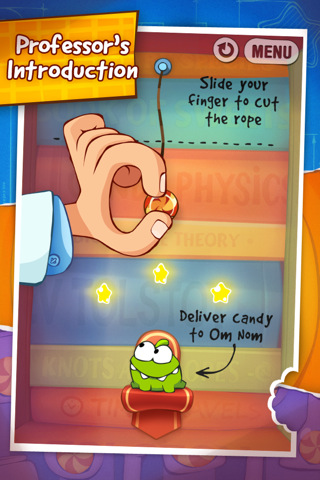 Cut the Rope: Experiments is a cute casual game that packs a great deal of strategy and fun into a tiny package. In addition to the new changes in gameplay, we get to learn more about where Om Nom comes from, which is a lot of fun. If you love the original Cut the Rope, Angry Birds, or any of the hit casual iOS games, this is definitely one to add to your collection. The iPhone version is available for $0.99 and the iPad version is available for $1.99, both on the App Store.